Successful periodontal (gum) procedures depend on a healthy healing process.
Complications that compromise healing can lead to poor outcomes such as gum grafting failure or infection.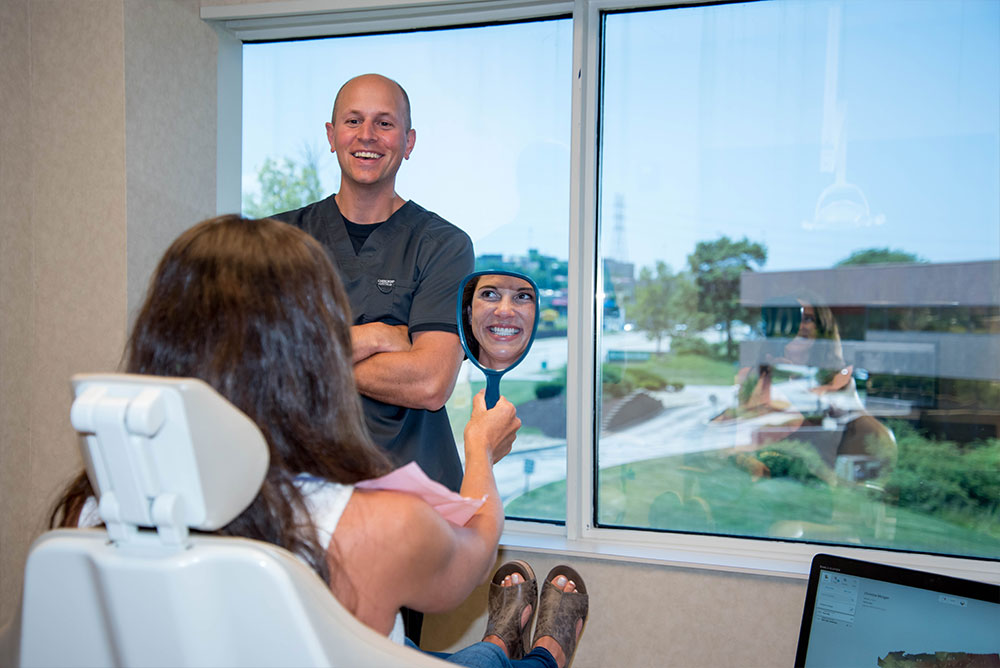 One way to enhance the healing process is through platelet rich fibrin (PRF) therapy. By using the patient's own blood, PRF therapy can help minimize complications and accelerate the body's natural healing process after gum surgery, dental implants, wisdom tooth extraction and other procedures.
This innovative technology offered by Morgan & Lemke Periodontics & Dental Implants has been used in dentistry for more than a decade as well as in plastic surgery, orthopedic surgery and oral and maxillofacial surgery.
PRF therapy particularly benefits patients with diabetes and other conditions that restrict blood flow or may otherwise inhibit healing.
How PRF Therapy Works
Platelet rich fibrin is a combination of white blood cells, platelets and fibrin. It contains high levels of platelet derived growth factor and other growth factors that together regenerate soft tissue and bone to help the body heal faster. To obtain PRF, we draw a small amount of the patient's blood at our office and run it through an advanced centrifuge to separate these growth factors from the red blood cells. This process is quick and painless and is performed on the same day as your scheduled periodontal procedure.
PRF-Assisted Procedures
PRF therapy is frequently used in gum grafting, bone grafting, dental implant and other periodontal surgeries to accelerate the recovery process and to repair or replace hard and soft tissues. On average, using PRF Therapy can accelerate healing and reduce post-operative discomfort. For example, a patient who lacks adequate bone mass for a dental implant will generally require a bone graft. Using PRF therapy speeds up the body's ability to heal after bone grafting and shortens recovery time, in addition to significantly reducing the likelihood of complications leading to implant or graft failure.
"I was so surprised there was no pain whatsoever after my surgery — I was only out of work a couple of days and had very little bruising."

— Brenda Piraino, complete upper full arch patient
When PRF therapy is used for wisdom tooth removal, it lowers the risk of infection and helps to prevent a painful condition known as dry socket. Overall, because PRF Therapy processes platelets from your own body, it eliminates the risk of disease transmission and ensures that your body will not reject the material.
Who Can Receive PRF Therapy?
PRF Therapy is an ideal choice for most patients. However, individuals with blood clotting disorders and those taking certain medications may not be suited for this treatment. The Morgan & Lemke Periodontics & Dental Implants team will work closely with you to determine if PRF therapy is right for you.